For English see below.
Wij spelen op een prachtig tennis- en padelpark, met 10 goed onderhouden tennis gravelbanen en 4 kunstgras padelbanen. Prestatief sterk, maar ook recreatief. Een gastvrije kantine.
Tennisclub Hazendans is een levendige club in Maastricht
We onderscheiden ons met prestatief tennis. Maar ook met volop ruimte om gewoon lekker recreatief een balletje te slaan. Voor alle niveaus. Op onze 10 tennisbanen en 4 padelbanen in ons prachtig ruim en groen park komt iedereen snel aan tennis toe.
En wil je even een break, we heten je graag welkom in onze gastvrije kantine "Centercourt".
Tennistraining
Lijkt tennis je leuk en wil je beginnen? Het spel beter leren? Je prestatief verder ontwikkelen? Star tennisschool is aan onze club verbonden. Roland Pechler en zijn team werken met je aan techniek, tactiek, je conditie en je mentale kracht. Je traint met spelers van je eigen niveau. Roland brengt je in contact met elkaar om ook buiten de trainingen te kunnen spelen.
Prestatief
Ons hoogste herenteam 17+ speelt Topklasse op Zaterdag. Jaarlijks doen meer dan 20 competitieteams mee aan de voorjaarscompetitie. We organiseren jaarlijks het sterk bezette "Deportivo Del Sol @ Hazendans Open" (tot niveau 3). Bij TC Hazendans komen spelers van andere clubs om op niveau te trainen bij star tennisschool.
Jeugd
Met ons jeugdplan weten we kinderen enthousiast te krijgen en te houden voor tennis. Het moet in de eerste plaats leuk zijn. Verder gaat tennis niet alleen om techniek. Ook het leren spelen in teamverband, het spelen van wedstrijden, omgaan met winst en verlies en het verbeteren van je conditie en motoriek horen daarbij.
Recreatief
Bij ons spelen leden van alle leeftijden, van alle niveau's. Onze leden organiseren veel clubactiviteiten, zoals de jaarlijkse clubkampioenschappen, speelavonden waarbij je zonder partner kunt komen spelen, en het ouder-kind toernooi. Ook voor nieuwe leden zijn dit mooie gelegenheden om anderen te leren kennen en je snel thuis te voelen bij TC Hazendans!
Senioren (65+)
Er zijn diverse groepen senioren (heren, dames en gemengd) die op regelmatige tijdstippen op ons tennispark spelen. Als u dat wilt, helpen wij bij het vinden van een leuke tennispartner of –groep. Ook activiteiten zoals senioren clubcompetitie en –toernooitjes behoren tot de mogelijkheden.
Speel mee bij TC Hazendans
Iedereen is welkom op ons park! Nieuwsgierig en enthousiast? Kom een keer langs voor een introductie, dan vertellen we je graag meer over onze club. Of meld je meteen aan als lid! Dat kan via deze link. Heb je vragen, stuur dan een mailtje naar onze ledenadministratie of naar onze tennisschool.
Tot op ons park!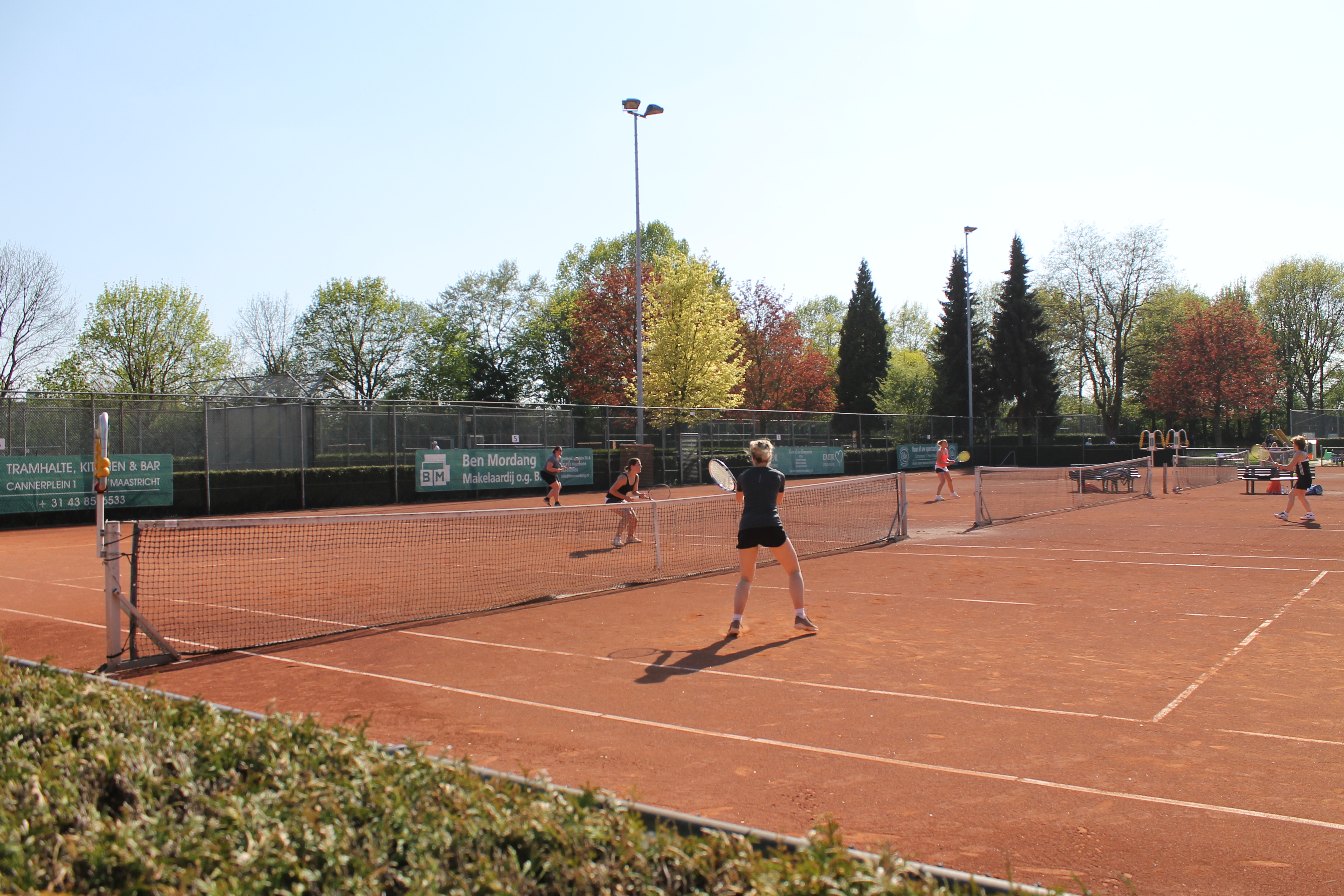 About us!
We distinguish ourselves with high performance tennis. We are proud to have competitive players at our club who compete on a national level. But we also have many recreational players who have a strong passion for tennis. We have 10 well-maintained clay courts and 4 all weather padelcourts, located in a beautiful and spacious green park just outside the city centre.
Played a few sets and need a break? We welcome you at our canteen "Centercourt", with some well-deserved refreshments. Sit back and relax, and enjoy the view over the tennis courts from the spacious veranda.
Tennis training
Do you think you might be into tennis and want to take classes? Or do you want to improve your game, and enhance your performance level? Star tennisschool is partner of TC Hazendans.
Roland Pechler and his team will work with you on your technique and game tactics, and get you fit and mentally strong so you can play your best tennis. Roland will organize your tennis training in such a way that you will play in a group with players of a similar level. He can also put you in touch with other players, so that you can hit the court together.
Performance tennis
We have 20 teams participating in the KNLTB spring competition each year.
Our highest men's team 17+ competes at the highest level on saturday (regional league/'Eredivisie'). We also organize the very popular and strongly occupied tournament "Deportivo Del Sol @ Hazendans Open" every summer.
Youth tennis
With our youth plan we motivate children to (start to) play tennis. Tennis is not just about technique. It is also about learning to play on a team, playing a match, coping with winning and losing and improving your level of fitness.
Recreational tennis
We have members of all ages and levels. Our courts can be used freely, making a reservation is easy with our digital reservation-system. Many club events are organized by our members, such as the annual club championships, the 'Friday open' evenings where you can play friendly matches with fellow players, no need for signing up with a partner. Please check our events calendar. For new members, these are good opportunities to get to know each other, and to feel at home at TC Hazendans!
Seniors (65+)
We have several groups of seniors (men, women and mixed ) that play at TC Hazendans on a regular basis. If you wish, we help you find a suitable tennis partner or group. Special activities such as senior club competition and –tournaments are also possible.
Come play at TC Hazendans
Everyone is welcome at our beautiful tennis park! Drop by for an introduction, we are happy to show you around and tell you more about our club.
Of course you can also sign up as a member right away! That can be done through this link.
If you have any questions, please send an email to our member administrator ('ledenadministratie') or to star tennisschool.
We hope to see you soon!